Can Anyone Receive Hospice Care?
by Robert Bruce Dalglish of Philadelphia PA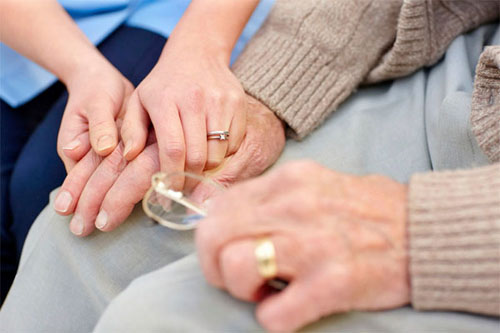 Anyone diagnosed with limited life expectancy, meaning less than 6 months, can receive Alliance Hospice care. A physician certifies the terminal illness and collaborates with the Hospice care team for appropriate services. Many patients have cancer but hospice cares for those with all other terminal illnesses including hospice care for heart disease patient, hospice care for chronic lung disease, hospice care for kidney disease patients, neurological disorders, Alzheimer's, and other dementias. Family and friends also receive the benefit of hospice care to help them support the patient and adapt to their loss. Hospice continues supporting families for over a year after a loved one's death.
Many people mistakenly believe that hospice patients must be bed-bound, critically ill, and unable to continue living life to the fullest. When the Hospice interdisciplinary team works to manage pain and other symptoms, there is an opportunity to focus on goals that are most important to both patients and families. Hospice celebrates life and supports the patient's individual needs.
Patients must meet specific criteria in order to be eligible for hospice. The Alliance Hospice team will work with you and your physician to determine your eligibility.
Documented life-limiting prognosis by a certified physician(s), which means a life expectancy of six months, if the disease follows a normal course.
The patient elects to receive comfort (palliative) care, instead of seeking aggressive treatment.
Why Choose Hospice?
After receiving a diagnosis for limited life expectancy, patients make an important choice between hospice care and aggressive medical treatment, which have very different goals and methods.
Medical treatment focuses on the physical illness. It often requires intensive care in a clinical setting that diminishes the patient's quality of life. Alliance Hospice, on the other hand, focuses on enriching the quality of life in the remaining days.
Hospice care neither prolongs life nor hastens death, but relieves pain and physical discomfort so that the patient can better fulfill their emotional and spiritual wishes. Hospice care takes place in the home. Beyond the patient, hospice cares for the circle of family and friends to help them support the patient's wishes and adjust to their own grief and loss.
About the Author 
A resident of Philadelphia, Robert Bruce Dalglish has served as the Chairman and CEO of Alliance Hospice and All Caring Hospice since 2005. In this role, Bruce Dalglish oversees the development and strategic direction of both companies. From 2008 – 2013, Bruce Dalglish served on the Public Policy Committee of the National Hospice and Palliative Care Organization (NHPCO).
 Disclaimer:  Robert Bruce Dalglish blogs provide education information, not medical advice. Please consult with your medical providers when making end-of-life care decisions.